Gilbert Windshield Replacement and Auto Glass Repair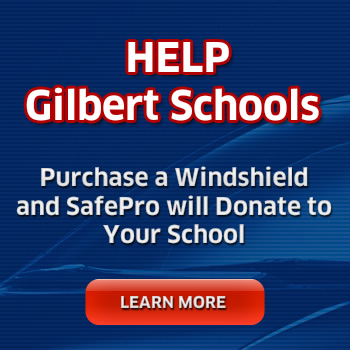 SafePro Auto Glass offers Gilbert, Arizona residents the highest quality of windshield repair and auto glass replacement services. Our mobile glass technicians come to you at work or at home to do your repairs while you deal with your regular life.
Gilbert is a suburb of Phoenix, and a large incorporated town southeast of the metropolitan area. The 1990s showed rapid growth in the area, and Gilbert has since become one of the larger of the Phoenix suburbs. During this period it was known as one of the fastest growing places in Arizona, and has since become one of the only towns in the U.S. with more than 100,000 residents.
One of Gilbert's claims to fame is its high population of famous residents. Just a few of the many famous residents or ex-residents include MLB players Phil Ortega, Darrin Jackson, and Shea Hillenbrand, Jimmy Eat World drummer Zack Lind, Jineane Ford, Miss USA 1980, and NFL players Ryan Fitzpatrick and Marquis Cooper.
The recreation and leisure of the city is important to the community, and the Hale Centre Theatre and Gilbert Historical Society provide a variety of activities for residents of all ages in Gilbert. In addition to this, Gilbert residents enjoy the highest quality of auto glass repair and windshield replacement that Safe Pro Auto Glass provides in the area.
Our mobile services come to you, offering very little interruption in your life, and all of our materials and services are the highest of quality. Our urethane for repairs is the best in the business, and we only use OEM auto glass. Our installers all have at least three years of experience, and we make sure that your auto glass is repaired and replaced professionally. Call us at 480-398-2251 for more information or to schedule a glass repair or replacement appointment.